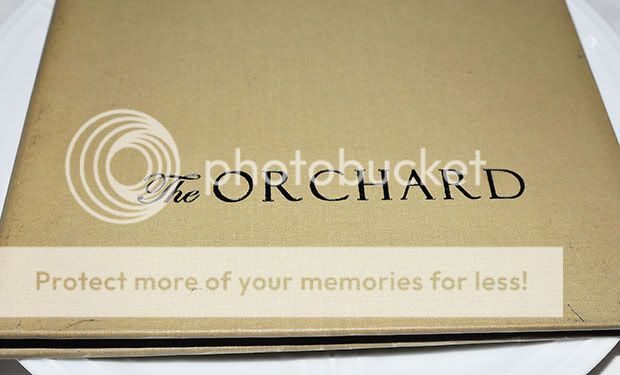 If you read my last blog you know that I'm on a mission to eat at all the best restaurants in the Brandywine Valley before I move back to England. I am nearly there. Last week I had a slight hiccup with Simon Pearce, but Corey, the General Manager has invited me back and apologized for any mishap. That will take place on Saturday. So stay tuned. But that's tomorrow. Today I am proud to write about a restaurant that is doing something really special in this area,
The Orchard Restaurant
in Kennett Square, PA.
The Orchard is tucked away in a little corner, behind a health food store on Route 1, going towards Kennett Square's downtown area. In fact, it is so tucked away that I have never seen it in all the years I have lived in this area. But I will not soon forget this gem in the country. My wife and I arrived on time and waited a couple of minutes to be seated. We were offered a well lit table, but chose a more secluded table away from the ruckus. Although there weren't many people dining that night, we counted 8, the main table was a very loud bunch that was clearly enjoying The Orchard's BYOB liquor license. Needless to say, we wanted the night to be a little more tame and chose a dark table in the corner.
There was only one waiter and as a result the service was a little slow. The first dish, compliments of the Chef, was a Butternut Squash Terrine with Duck Confit, Anise Oil and Ceviche with Cucumber. The Butternut Squash must have had a pound of reduced Butter in it, but I adored it. The Duck Confit was equally good, crispy with just a hint of Anise Oil. The Ceviche on the other hand was a bit out of place and was overpowered by the other dishes. Had I eaten it first it probably would have been better, but I started with the Butternut Squash and worked my way counter-clockwise until I reached the Ceviche.
Next up was my Goat Cheese Tart with Balsamic Reduction and Mesclun Greens Salad. A beautiful little dish, with just the right amount of crispiness and texture. My wife had the Pan Seared Foie Gras on Pan Seared Brioche with Strawberry Rhubarb Sauce. It was a very nice Foie Gras and the Mesclun Salad paired well with it. I am not a fan of Sweet Sauces with Foie Gras, but I know most are so I will spare you my thoughts on the Strawberry Rhubarb Sauce. The Brioche was also slightly over saturated in what I imagine was Foie Gras fat.
In between courses we enjoyed a Thyme Granita. Something I have never had, but really enjoyed as it helped cleanse my palate and prepare me for the next dish. My Loin of Lamb with Cabbage, Confit Risotto and a Glazed Cippolini Onion Reduction Sauce was a thing of beauty. The absolute best dish of the night. It reminded me of the Lamb I had at
The French Laundry
back in Sept. 2009. It was that good. And at $35 a pop I'm glad it was that good. The Lamb was tender, juicy and as flavorful as anything I've put in my mouth before. Couple that with the Risotto and Sauce and you have a dish that can stand up to the best of them. And it took a big dish like this to tame my
2005 Chateau Beaucastel Chateaunuef-du-Pape
. Perhaps one of the best wines I have had for the money. My wife's Moulard Duck with Grilled Japanese Eggplant, Baked Plantain and Thai Basil Watercress Sauce was yet another example of Chef Gary Trevisani's
anything goes
approach to his food.
This seemed to be the theme of Chef Trevisani's cooking. He just does whatever comes to mind and doesn't ask permission from anyone. And for the most part, he does a hell of a job. You either like it, or you don't. Take for instance our pre-dessert dessert. A Chocolate Brownie served with cubes of Orange and Marshmallow. This was served before our main dessert, a Vanilla-Orange Blossom Semi Frio on Chocolate Pave with Hazelnuts Praline Tuile and Lemon Spice Jus. A wonderfully textured dish. The Chocolate Pave was stunning. To cap the meal off we had an Americano and finished with Petite Fours.
The Orchard Restaurant is perhaps the most exciting restaurant I've been to in a while. The service was a little slow, but you have to keep in mind, this is a restaurant off the beaten path, it was a Wednesday night and there was only one waiter. Chef Trevisani should be commended for bringing his insightful gastronomy to Kennett Square. His is a restaurant that would warrant a Michelin Star if it were in Europe and if there were more waitstaff to lend a hand and improve the service. My hat goes off to you Chef.
My professional photography website:
Taylor Young Photography