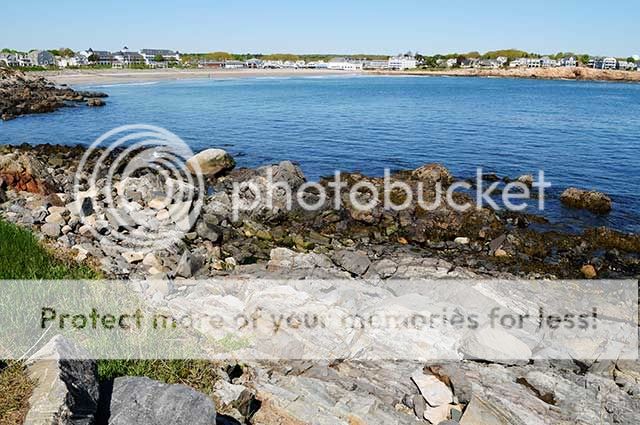 There are three 60th birthday's in my family this year. They take place at different times of the year, but we thought it would be nice to combine the milestone birthdays into one long weekend. It was really an excuse to have a mini-family reunion. The planning started earlier this year and the first thing we did was find the perfect spot. We knew we wanted Maine, I had been a fan ever since I started reading
Paul Theroux's
books. But we didn't know which area to go to. The criteria was this: 1. It needs to be as close to Pennsylvania as possible because that's where we were all coming from. 2. Wherever we were going to stay it had to be relaxing and embody the heart and soul of what we envisioned Maine to be. We only had three days and they had to show us all that Maine has to offer and not leave us wanting more. We settled on York Beach, Maine, which is just over the border from New Hampshire.
We had the location, now where to stay? We used a website which connects homeowners with short term renters called
Vacation Rentals by Owner
. Having never used this service none of us knew what to expect, but it actually turned out quite well. There were 9 of us staying in a 5 bedroom home, overlooking the water. Surprisingly enough, we all managed to commingle in the house quite nicely. The first two days were a wash for weather. The sun was playing evil tricks on us, coming out for a few minutes and then dipping back behind the clouds. It made photographing the scenery challenging to say the least. The first night we got take-out from
The Lobster Barn
, which inside looked exactly how I envisaged it to look. It had old, gnarled wood support beams, which looked like they had taken one too many bumps and bashes by drunken lobster fisherman. We ordered 18 Crab Cakes, 9 Clam Chowders, 2 Burgers, 4 Haddocks, 2 Crab Cake dinners and one Salad. When the food was ready the hostess brought it out to us and asked us which army we were serving dinner to tonight. I may have overestimated our ability to consume mass quantities of food, but I doubted it. The food at The Lobster Barn was top notch. The crab cakes were stuffed with meat and very little else. It had a much smoother consistency than the crab cakes I have had in Maryland, or New Jersey. The clam chowder beat the pants off of that stuff you buy in a can and it's hard for me to imagine going back to the dark side of canned soup. It even had yummy bits of sand in it, just to prove it was authentic. The burger was ok, but didn't come close to the depth and quality of the seafood. This trip was starting off right.
On the third and last night in York Beach, we went to a restaurant called
Fox's Lobster House
. This, in my mind, is what Maine food should be. The helpings were huge, the service friendly and the food was shockingly good. Both me and my wife had 1-1/4 pound lobsters, which by the looks of it, were caught right outside by
The Nubble Lighthouse
, probably that afternoon. Never having lobster in its original, just boiled, virgin form, I have nothing to compare it to, but I hope to never eat a lobster that doesn't match up to the one I had at Fox's Lobster House. This isn't the cheapest eatery I've ever been to, but for the money it certainly didn't disappoint.
Maine is one of those places I envision myself living in the future. It is laid back, natural and raw. I felt like I was in a more Americanized version of France, without the erratic driving and warmth of course. If you have an endless supply of money and can afford to live on Maine's Coast, which by the way stretches for more miles than the California Coast, approximately 3,500, than I say go for it. Just don't hope for shops staying open past 5pm and in some cases, in the low season, not opening at all. This is how life should be. But only when we've all retired and can afford to relax a bit and take it all in.
My professional photography website:
Taylor Young Photography